Zauo Fishing Restaurant in Namba, Japan 🐟
Do you know a restaurant where we can fish and eat on the spot?
Zauo is a new and unique restaurant where you catch live fish yourself from the fishing pond.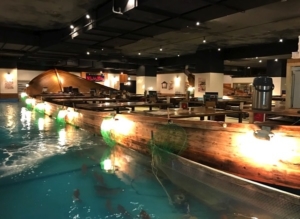 This restaurant is perfect for those who say "I want to go fishing, but it's hard to go." or "I want to eat fresh fish just after catching it"
I'll introduce the charm and the way to enjoy that.
What kind of restaurant is Zauo?
There'e many kinds of fish swimming in the fish pond. They're horse mackerel, grunt, turban shell, Japanese spiny lobster, and high-class fish such as flounder and sea bream.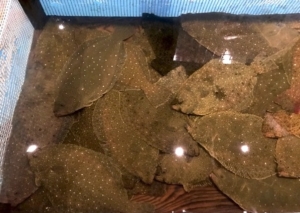 When you get to your seat, please rent a free fishing rod and hang the line in the fishing pond. Fish before eating This is how to enjoy Zauo.
If you have trouble catching a fish, you can ask the staff and they will tell you the Fishing tips for each fish. The bait for fishing is 200 yen. Let's tell the staff which fish you want to fish and get a bait.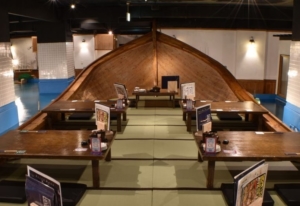 You can eat the fish you caught on the spot.
In zauo, you can eat the fish you caught at the restaurant. It's okay even if the fish is cut. A professional cook can make a gorgeous dish in the way you like.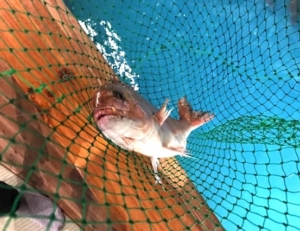 You can choose not only sashimi and grilled fish but also fried chicken and boiled fish.
I also recommend the option menu (extra charge) such as sea bream chazuke or simmered bony parts.
The sashimi that has the most distinct taste of freshly caught fish is very popular.
The freshness of sashimi is very important, but the freshness of Zauo is as good as any restaurant.
I recommend this popular dish because you can enjoy the original taste of fish and crunchy texture. When you catch fish, please eat it as sashimi first.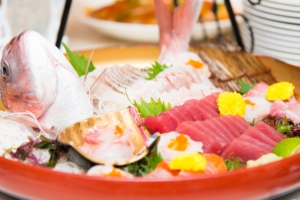 The freshest fish has plenty of fat on it. Whether grilled with salt or boiled, it makes the best dish. The fish cooked with just the right amount of salt is the best combination with beer.
I recommend boiled fish for people who can't cook fish slowly and carefully at home.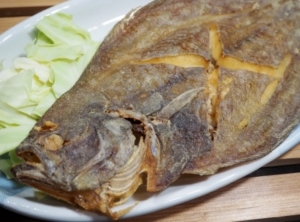 Fried fish is the most popular menu among children. Please eat the crispy fried fish while it is hot with the lemon which goes well with it. You can eat a whole deep-fried sea bream or flounder.
Please eat the crispy fried fish while it is hot with lemon which goes well with it. You can eat a whole deep-fried sea bream or flounder. The fluffy fried fish is truly superb.

Popular products of Japanese kitchen knife

And the classic fish dish is sushi that everyone from children to the elderly love. Sushi made from fresh fish is usually only available at sushi restaurants, but at Zaou, you can cook the fish you catch yourself into fine sushi. Cooking sushi costs extra, but it's a good deal if you calculate in total.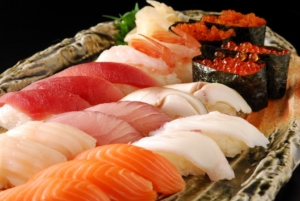 Zauo, which focuses on entertainment, has a hidden menu which is not on the menu. There're many people who get addicted to this hidden menu, and every time you visit, you can see a different. You may be able to meet unexpected surprises as well as hidden menu of the food.
How much is it?
The normal price for 1 sea bream is 3200 yen, but it will be 2,380 yen if you fish it by yourself.
If you fish by yourself, flounder is 2,980 yen, horse mackerel is 680 yen, and even big Japanese spiny lobster is 3,980 yen. If you combine it with the fun of fishing, it's a very good price.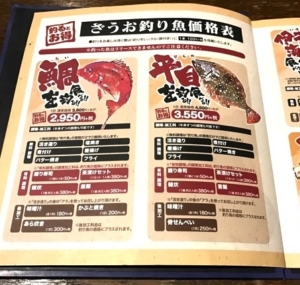 Zauo also has a children's menu. Kid's Lunch (1,058 yen), which is served on a boat shaped lunch board during lunch time, includes hamburger steak, fried chicken, tempura main menu, rice and dessert. It's a safe place for families with children.
Fishing is a leisure activity where you can enjoy "Exciting feeling until the fish is caught" and "The excitement of being caught in a large fish". And "Eat the fish you caught deliciously." is a big part of fishing. At Zauo, where you can enjoy these three pleasures, enjoy the new appeal of fishing and the true taste of fish.
Information
Hours: 17:00~24:00 (Weekdays), 11:30~23:30 (Weekends and Holidays)

Open all year round
---