KAOSU-NO-MA – Welcome to the Evil World
Kyoto Higashiyama is an area where historical temples and shrines such as Heian-jingu Shrine and Nanzen-ji Temple stand side by side, and there's a unique shop and gallery in Higashiyama.
The name is Kaosu (Chaos) -no-ma.
Let's take a look at what kind of place it is!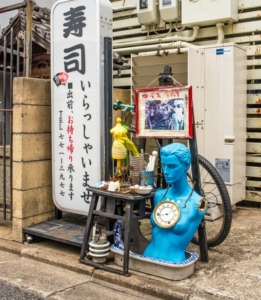 It's a one-minute walk from Higashiyama Subway Station and suddenly appears near the historic temples and shrines. When you get out of the alley, you'll see a blue-painted upper mannequin next to the sign of a sushi restaurant.
There's something weird about it already. The 1st floor of the building is a sushi restaurant, and the shop seems to be located on the 2nd floor.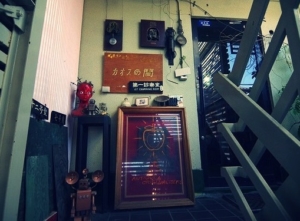 If you go up the stairs to the 2nd floor, there's a guide board. This seems to be the right place. It seems to be a shop and a gallery, but apparently there's no admission fee.
And as soon as you enter from the entrance, a strange space spreads out!
There're a lot of mannequins and mysterious old medical equipment in the shop and it's very creepy. The shop is filled with items that are rarely seen in daily life…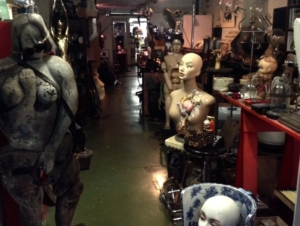 Western dolls with only a neck, dirty Japanese dolls, human anatomical models, imitations of human bones and eyeballs, processed mannequin dolls and broken watches are scattered in dim room.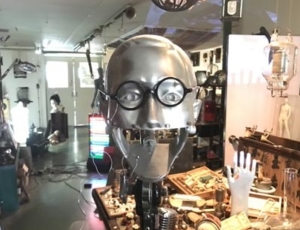 It's occult!
It's too eerie!!
It's a mystery!!!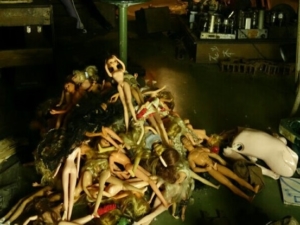 You may want to run away soon. But please be patient for 5 minutes.
Then you'll get used to them. And you'll even be interested in what kind of objects might appear next.
By the way, who makes these and why do they display them? I asked the shop owner.
Many of the items in this shop are from the 1920s, and they are from the Taisho period (1912-1926) before the Showa period in Japan.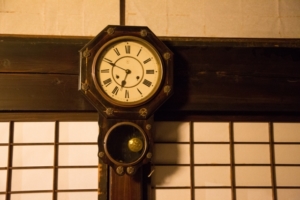 The owner who originally ran an antique shop seems to be attracted by these items and keep buying them at a low price in the antique market.
All of them are limited to single items, and some of them are made by the owner.
As Higashiyama is a tourist spot, there're many foreign customers, and it seems that many people from outside the prefecture visit here because it's a rare shop.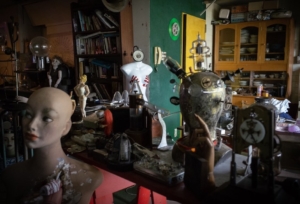 Also, university students of art in Kyoto come to buy materials for their works. It's true that I can easily make a great work of art with such unique materials.
The shop has no particular concept, and the owner buys and collects items that he finds interesting with his senses, including Buddhist altar fittings, medical equipment, and sexy items. It's a space of chaos!
Most of the unusual items in Kaosu-no-ma are available for purchase and are not priced at a surprising price.
None of them are so expensive, but if you don't have what you want, you can just take a look. The owner wants people to see that there's a world like this.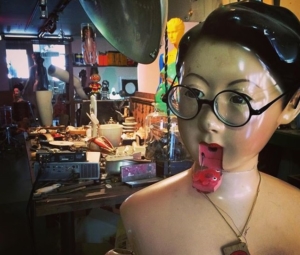 She's the only receptionist at the shop, so the owner can't sell her.
It's a place like the entrance of the evil world, but I think it's good to visit here outside of the standard course of Higashiyama.
Your hidden talent may bloom by being stimulated!
Finally, if you want to enjoy here more, I recommend you to go after dark.
Information
Hours: 10:00~19:00
Closed: Irregular holiday
Admission: Free
---